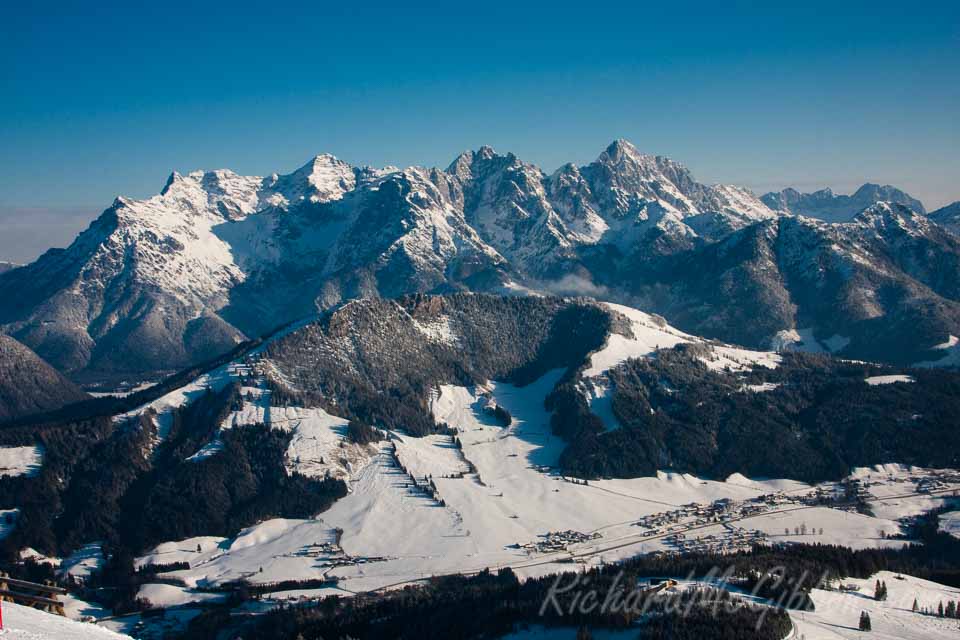 Yesterday I made a trip out to Fieberbrunn near the Tyrolean/Salzburg border  to watch the qualifying round of the Big Mountain Freeride Tour. With a total of 10,000 Euros prize money, the contest has attracted 76 entrants from around the world all hoping for their chance to qualify for a spot on the prestigious ski and snowboard freeride world tour. Though the majority of riders come from Europe the contest has also attracted riders from as far away as New Zealand. The winner at Fieberbrunn qualifies for the Nissan Freeride de Tignes which starts on the 8th of March and has a prize purse of 40,000 USD.
Clouds had hampered the previous day with only 5 riders being able to  ski due to the diminishing visiblity. Yesterday the weather was clear and cold with the temperature being around -12° at 9 in the morning. There was a biting wind blowing which dropped the temperatures even further. Conditions were quite mixed on the course and a bit more snow would have been welcome as a few rocks were uncovered after a big landing or a heavy turn. Although the majority of the riders kept it safe there was a few throwing down a couple of big drops.  The final will be held between the 7th and the 15th of Feb (weather depending).
I am not sure if I will get to make it back to the final as this week in St. Anton the O'Neill Big Mountain Pro kicks off with some of the world's top riders but if the chance arises I will definitely be making the trip back to Fieberbrunn to watch the final (and I shall be sure to take a bigger lens).