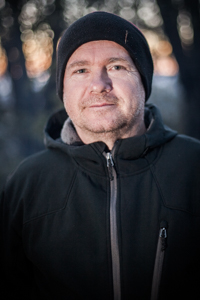 The short version:
I shoot adventure sports, mountain biking, trail running, snow sports and other such action sports and I love it. I am accredited with the AIPP (Australia Institute of Professional Photography) and attained the level of Associate with them. My photos can also be found in the premier adventure stock collection of Aurora Photos. I'm the co-founder of Outer Image Collective. a photography company that specialises in covering events such as mountain biking, adventure racing and trail running races. I also have a diploma in journalism which I use to complement my photography.
The back story:
My father, a professional photographer himself, led me down the photography path. He taught me the ins and outs of photography and, as a child, took me on many great photographic adventures in the early years. He bought my first SLR camera for me when I was around 10 years old, an old Russian Zenit that weighed about the same as a house brick. I carried it with me everywhere I went.
Bored with life in Sydney I took to travelling the world in search of adventure. I found my way to the Austrian ski resort of St. Anton Am Arlberg where I set up base and took a job in a pizzeria. Growing up on Sydney's Northern Beaches meant skateboarding and surfing so snowboarding was a natural progression for me. I didn't start till I was 26 but took to it with a passion and have done my best to make up for lost time since. I have snowboarded in Columbia, Chile, Argentina, Switzerland, and Austria. My aspirations of becoming a pro-snowboarder were cut short by a badly broken leg and the fact that I wasn't nearly good enough. It was while recuperating from my broken leg that I bought my first digital SLR. and decided to try my hand as a ski-photographer.
My main interest in photography lies in combination of adventure sports, landscapes and travel. I draw a lot of my inspiration from stories people tell me of their adventures around the world. I hate to feel I am missing out on something and so usually set about trying to organise or join a trip to the many places I hear about. The list of places that I still want to visit is still very long and I fear I shall never get through it all. Using my photography I hope in turn to inspire other people to go out and experience the world for themselves, the cultures, the landscapes. I have a diploma in journalism and use writing as another way to document my travels.
Clients include:
Redbull Australia
Revolution Magazine
AMB Magazine
Jetstar
Aurora Photos
Berghaus

Shimano
Maximum Adventure
Trek Factory DH
Kaluma Travel
Fluid Ski Magazine
Afar Travel Magazine

Climb Magazine
Sport Alber
Inghams Travel
Icelantic Skis
Pipolaki
St. Anton Tourism

Alpine Evolution
Sweet Helmets
Bluey Merino
Ultimate Ski
Rocky Trail Entertainment
Arson Clothing
Awards include:
2016 Silver with Distinction in the Australian Professional Photography Awards Sports Category
2016 2 x Silver Awards in the Australian Professional Photography Awards, Sports Category
2014 Silver with Distinction in the Australian Professional Photography Awards Sports Category
2014 2 x Silver Awards in the Australian Professional Photography Awards Sports Category
2013 Bronze Award in the International Loupe Awards Landscape Category
2013 Bronze Award in the International Loupe Awards Sport Category
2009 St. Anton Mountain Photo Awards Special Award for Outstanding Action
2008 St. Anton Mountain Photo Awards 1st place Landscape Category
2008 St. Anton Mountain Photo Awards 1st place Action Category