The Lander Cairn Powerbank Is Shining The Way For All Other Lanterns
The hideous white glare of the typical camp lantern is something akin to creating a scene from a refugee camp, not forgetting the hordes of bugs that come travelling from miles around for a kamikaze nose dive in your face. Well, we have seen the light, pardon the pun, and it's come to us in the form of the Cairn. An ingenious little lantern that has a couple of nifty tricks up its proverbial sleeve.
First Impressions
There are few brands, although I can think of one right now (sounds like schnapple) who are masters of creating things we thought we'd never need, but now there is another; a lantern called the Cairn.
Whereas other products often clutter our lives with needless things, the Cairn has brought a marked degree of pleasure to our camping activities. The Cairn is a thing of beauty and as soon as you hold it in your hands, you'll be charmed, just like we were.
The Cairn is not only a lantern but also a power bank for charging external devices. It's incredibly versatile at setting different lighting moods, robust and durable for the outdoor lifestyle and just looks bloody great!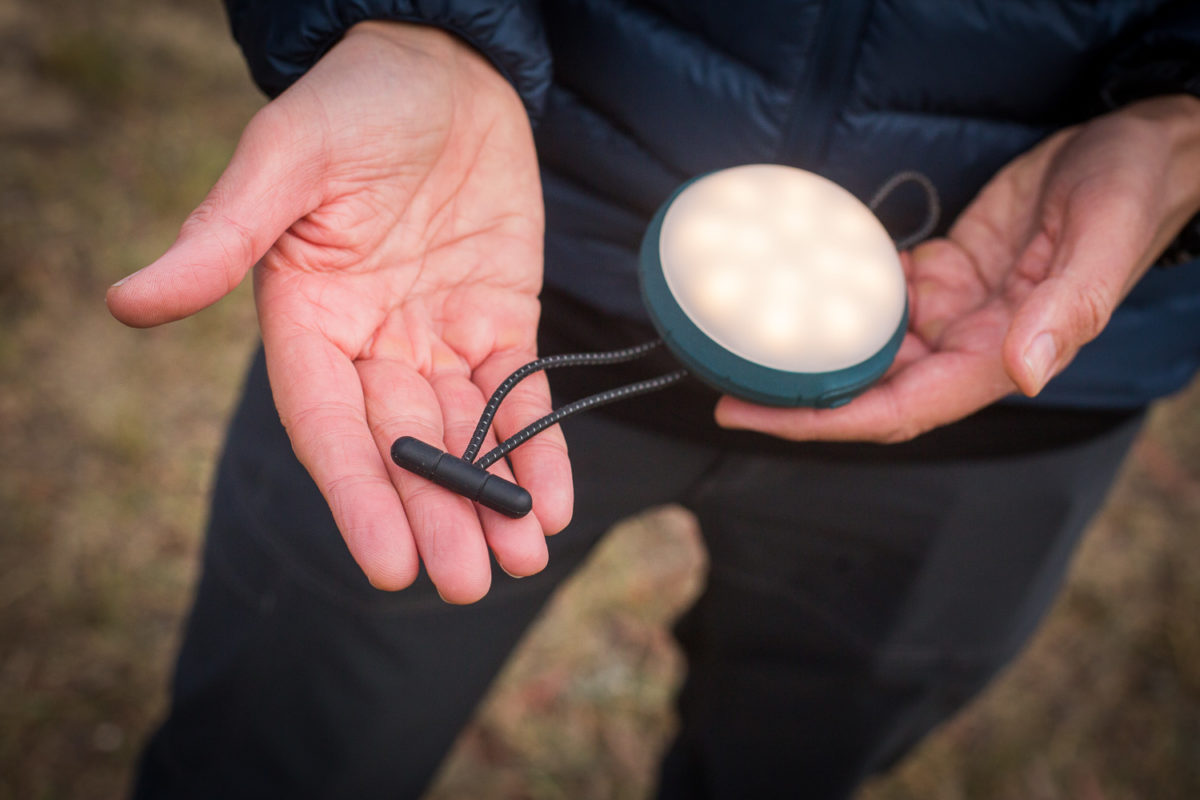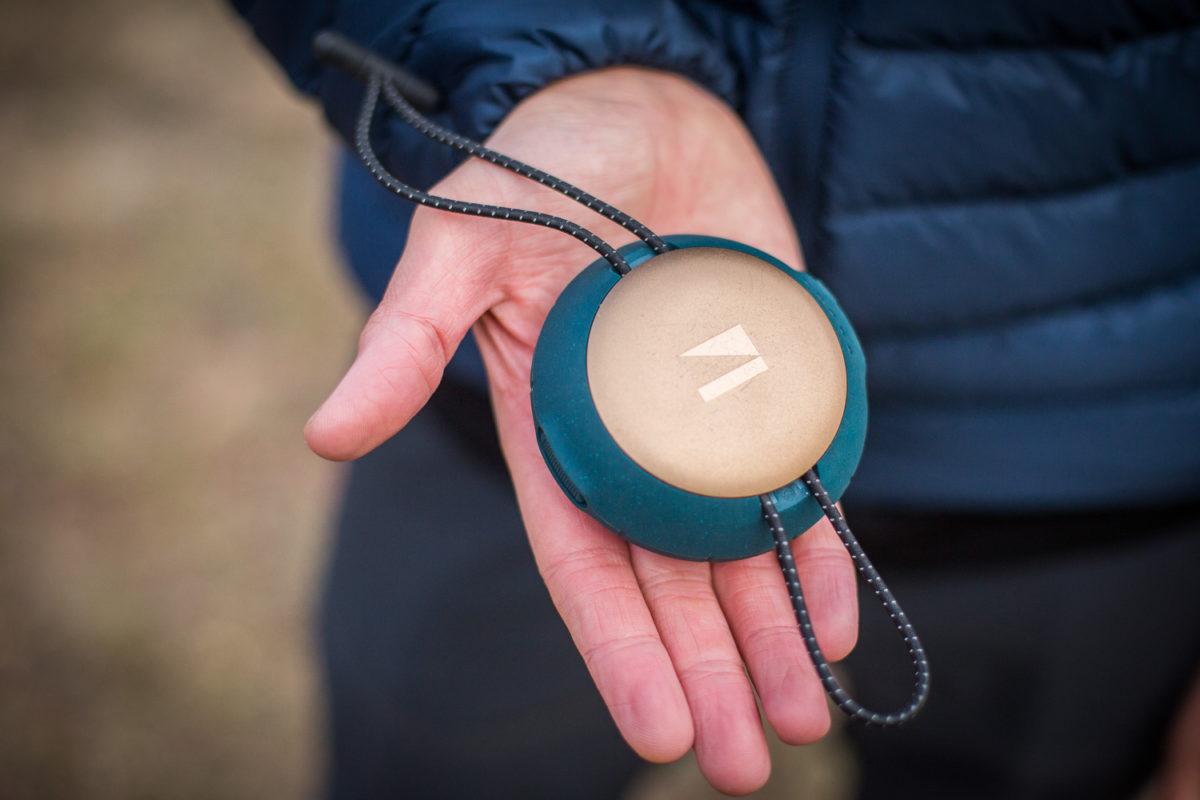 Features
The Cairn, made by the brand Lander, is first and foremost a lantern, but it does have another pretty cool feature, and that's being able to charge other electronic devices. Admittedly, this will reduce the number of hours you get out of the light but at least you'll be able to make that important phone call or group selfie if need be.
Variable Dimming
The Lander Cairn features a 300 lumen LED light with a fully adjustable dimmer functionality, designed to fit into any setting, be it dusk, late night or the early morning. The LED light creates an intimate soft glow for smaller spaces and all the way up to a super-bright light that floods the entire campsite.
Changing the brightness is easily achieved via the dimming feature, which is integrated into the power button. Simply press and hold and the light dims and brightens, then release when you get to your desired brightness.
Battery Life
Lander claims that you will get around 2.5 to 3 hours on full brightness (300 lumens), and we agree that is pretty accurate. We got around 2.5 on a very cold night in the Blue Mountains but on other warmer nights, we got a little more out of it, which was expected.
But 300 lumens is very bright, you would probably use only half that (150 lumens) for the majority of campsite use, and lower still when in the tent. You can expect to get about 6 hours + out of the device if you are solely using it at 150 lumens and not using it to charge any other devices.
When you hit the 3-hour limit (at 300 Lumens), it doesn't just shut off completely, it reduces the brightness to around 10 lumens and can continue at this brightness for about 10+ hours. Admittedly, 10 Lumens isn't bright, but it's certainly better than nothing. The Cairn takes about 2 hours to charge from flat to full.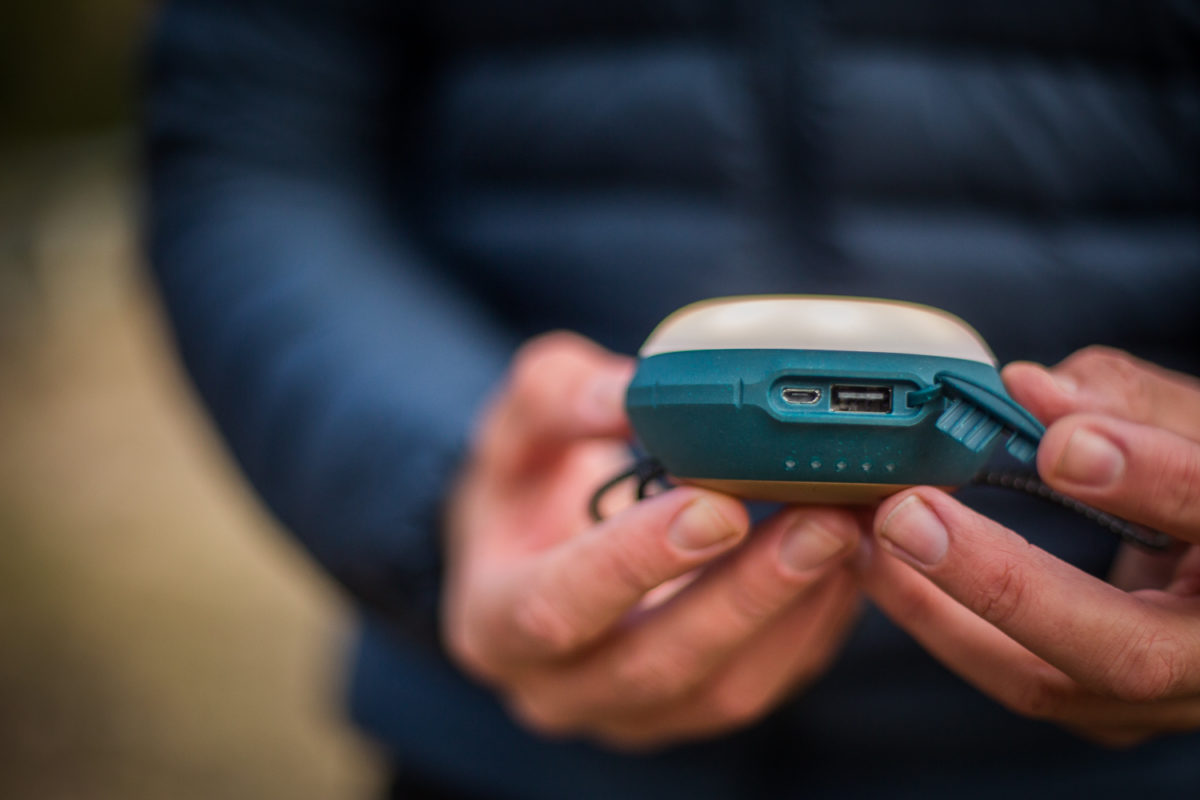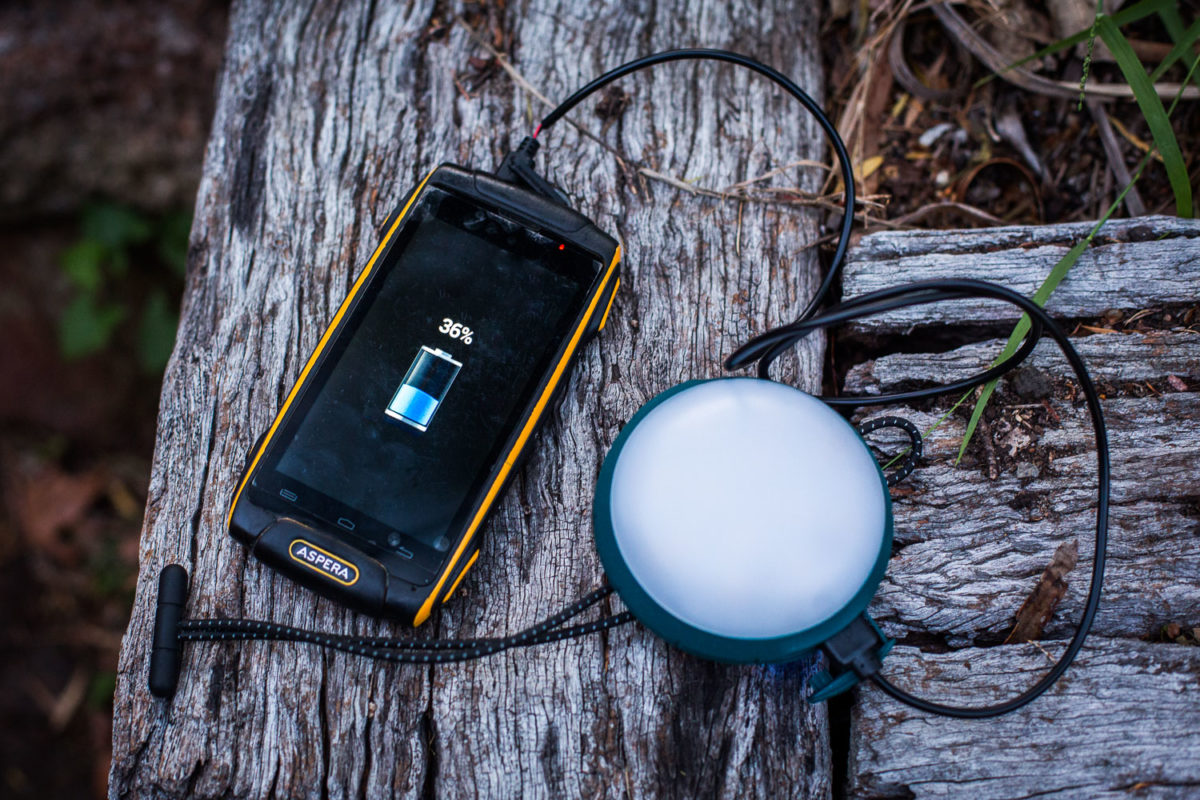 External Device Charging
The Cairn is a rechargeable unit thanks to the built-in 3300mAh battery and is also equipped with a 2.1 amp USB charging port to power external devices.
When the Cairn is at full charge, you can juice up your smartphone to about 75% and still get around an hour's worth of light at 300 Lumens. This could provide a solution to an urgent problem when in the bush and your phone is out of juice.
Adaptability
The Cairn Powerbank can be mounted pretty much anywhere you like with the Lander Anchor System, an innovative multi-axis reflective nylon cord. Simply choose your preferred spot and hang away – this is the definition of 'set and forget' technology.
The Cairn has two cord sections on each side of the light, one with a plastic T bar piece on one end. You simply loop the T bar through the other loop of the cord which creates the hanging system. I found it really handy when setting up camp and organising the gear in and around the tent.
Durability
There's nothing more annoying than worrying about your tech when in the great outdoors. Thankfully, the highly functional Cairn is P65 rated for water and dust resistance, protecting it from splashes and downpours.
However, we highly recommend you do not fully immerse the device. We did this out of curiosity and it killed it. So as Lander has stated, it's water-resistant, not waterproof. On the other hand, it can handle a fair bit of rain splashing over it.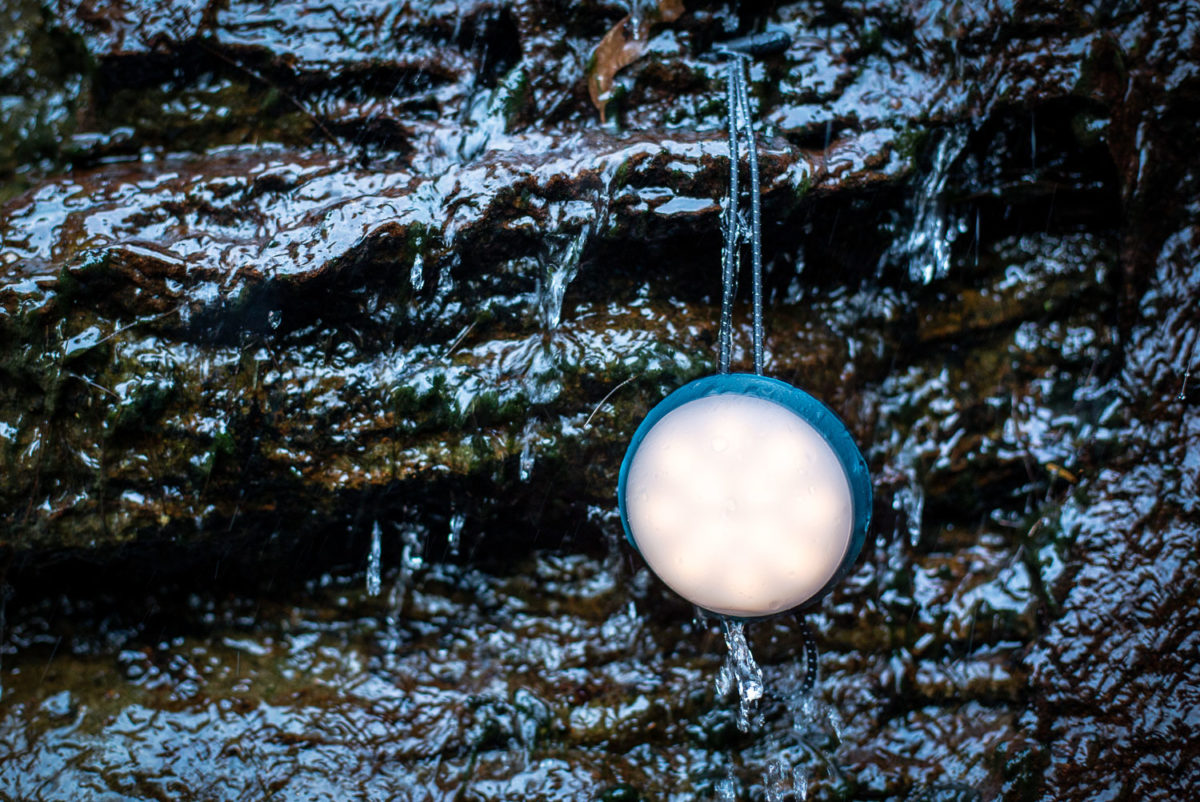 Specifications:
Equipped with an integrated 2.1-amp USB charging port to power devices.
Variable light dimming and strobe modes (including SOS pattern)
Multi-axis anchor system with reflective nylon cord allows you to hang the light wherever you need.
Waterproof Rating: IP65
Bulb Type: LED
Max Light: 300 Lumens
Avg Run Time: High: 10hrs; Low 40 hrs
Batteries: Rechargeable lithium-ion
Rechargeable: Yes
Dimensions: 19.8 x 12.7 x 5.5 cm
Weight: 284 grams
---
Where to Buy/Price
Price: $79.95
Available from the Lander website or other good online retailers.
---



If you like hearing about great bits of gear or tales of adventures in either MTB, hiking or camping then be sure and swing by the Tyres and Soles website and check out the content there. Just click the logo and check it out