I did a review of the Anja pack from f-stop Gear for Tyres and Soles. Like all the f-stop Gear mountain series backpacks it's the attention to detail that makes it stand out from the crowd.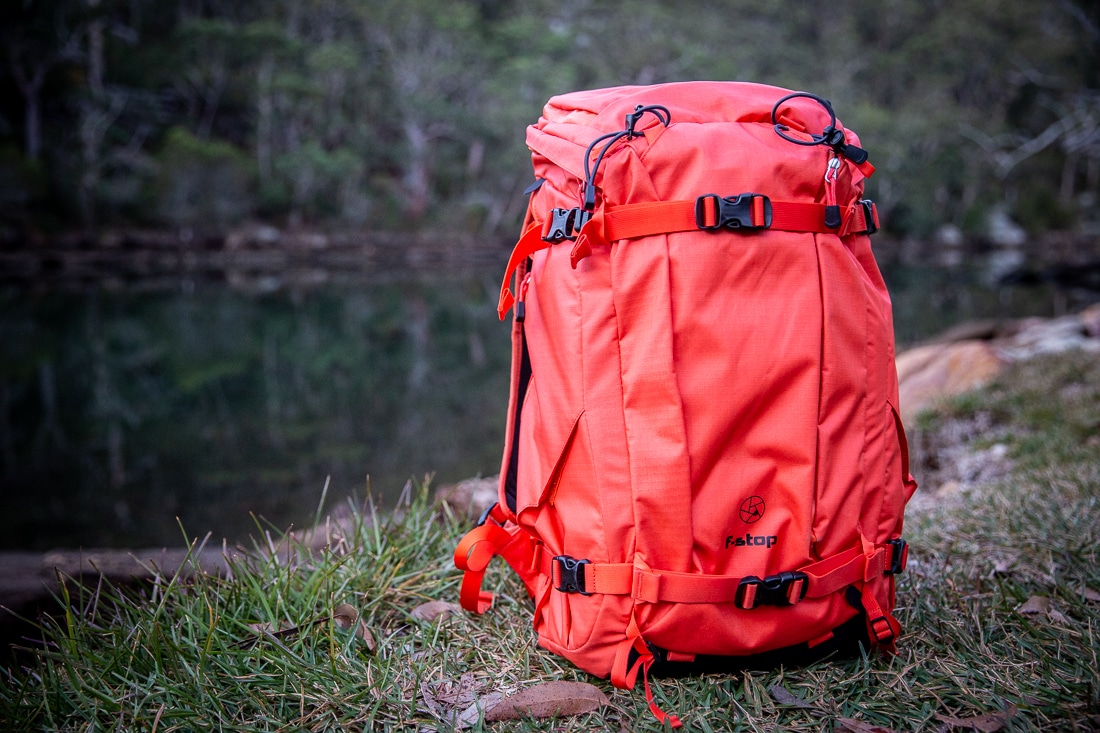 The New f-stop AJNA Has Your Back, No Matter What!
f-stop has done it again with their AJNA 40l pack. If you consider yourself a serious photographer, then you should seriously check out the AJNA.
f-stop makes great packs. They came out strong about 12 years agp and quickly became a market favourite with their Mountain series and for good reason, they're tough, versatile and comfortable. I have been using F-stop packs for a few years now and I am a big fan.
Mountain series include 5 packs (Lotus 32L, Ajna 40L, Tilopa 50L, Sukha 70L, Shinn 80L), apart from the Mountain series they also have the Ultra Light Series that include: 25L Guru UL, Kashmir 30L and Loka UL 37L.  The Kashmir UL is the pack with shortest torso length. It is suitable for both men and women with some benefits for female shooters such as the slightly curved should straps.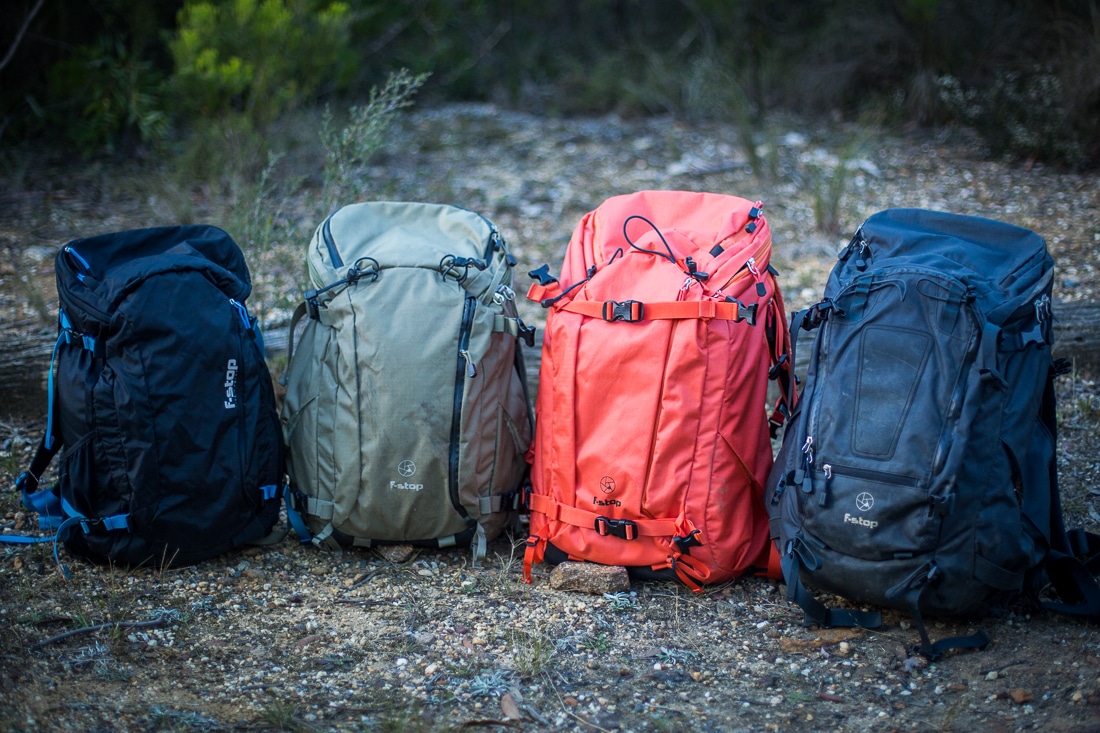 The Ajna (orange) fits in around the middle of the range at 40L. Photo: ©Richard McGibbon
Features
f-stop packs are very water resistant. I've had mine in heavy downpours without a rain cover and there was next to no water getting into the pack, and better still, none even got close to my camera gear. However, rain covers are an optional extra and the packs do have a storage pocket and attachment loops for them.
ICU
The internal camera units (ICUs) are a great piece of interchangeable gear. It's basically the removable guts of the bag that allows you to customise and fit your camera gear safely. I have a couple of ICU's that hold different kits and I'll just throw one into the pack depending on my needs. All setup and ready to go.
 Comfort
What really sealed it for me was how comfortable the Ajna felt on my back. My full kit weighs in around 12-14kgs. When I need to spend all day lugging this around, comfort is of the maximum importance to me. f-stop has not only made a pack that can store photography gear, they've looked long and hard at what makes a pack comfortable.
The comfort comes from an internal aluminium frame which provides the overall structure and rigidity, maintaining good shape whilst still being lightweight. Combine this with the ergonomically designed hip belt and shoulder straps, which have been injected with a gel-like material, and you get an exceptionally comfortable pack.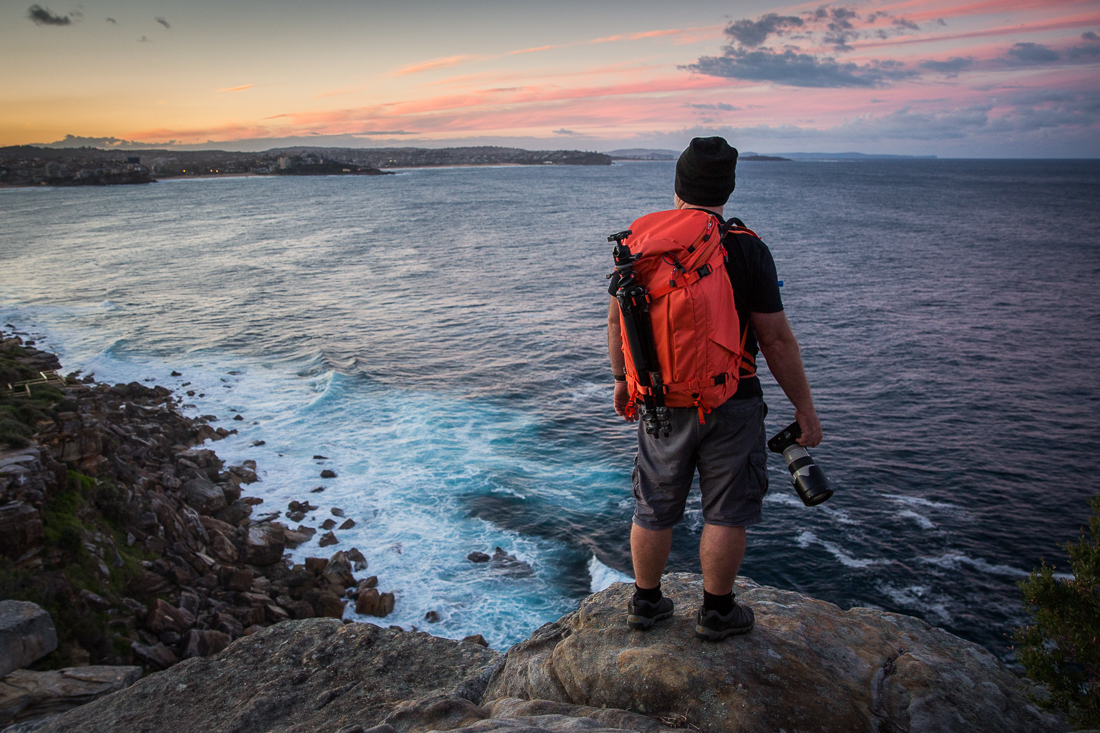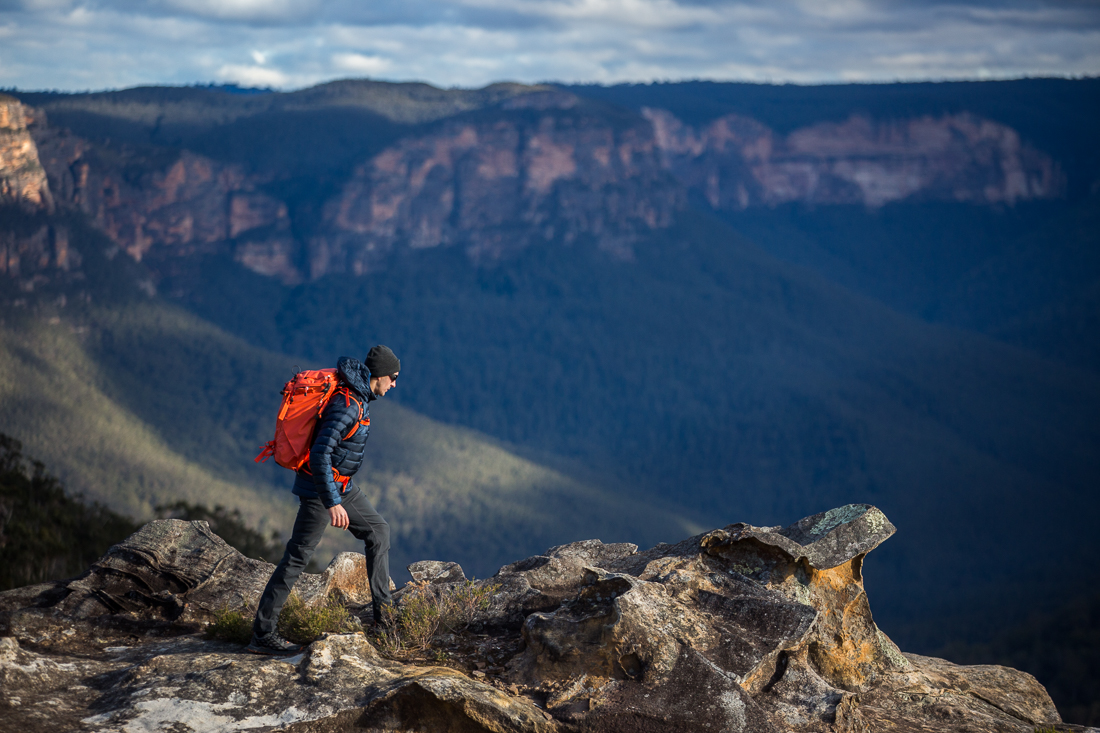 Storage
There's enough storage in the Ajna to easily store all my camera gear plus food and water for a day on the hill. This is ideal as I'm out on location for long sessions at a time and need to ensure that I have everything with me.
Access to the ICU is via a padded rear panel constructed with heavy gauge catch-free YKK® zippers which opens up to give you full access to the entire ICU unit. Having this rear access means that you can place the pack down on its front, access all your gear and avoid getting mud on the harness straps and your clothing.
The main internal access is from the top zippered panel and is roomy enough for all sorts of gear, clothing etc. There are also easily accessible side pockets with full-length zippers and an expandable design, so you can cinch the pack in or keep filling it out. All zippers are heavy duty wet weather resistant and are remarkably catch free…ah heaven!
There's also a multipurpose internal sleeve that can fit either a 13" laptop or can be used as a hydration bladder pocket.
The Little Things
The Ajna has more pockets, attachment loops, bungee cords, straps and hooks than you could possibly need on a single trip. The pack has ice axe, avalanche shovel, sleeping bag attachments but I tend to use these to keep my tripods strapped and secure.
And for storing smaller items like passport, wallet, keys and phone, there's a zippered mesh underside lid pocket. It's the small details like this that can make a big difference when your travelling interstate or overseas.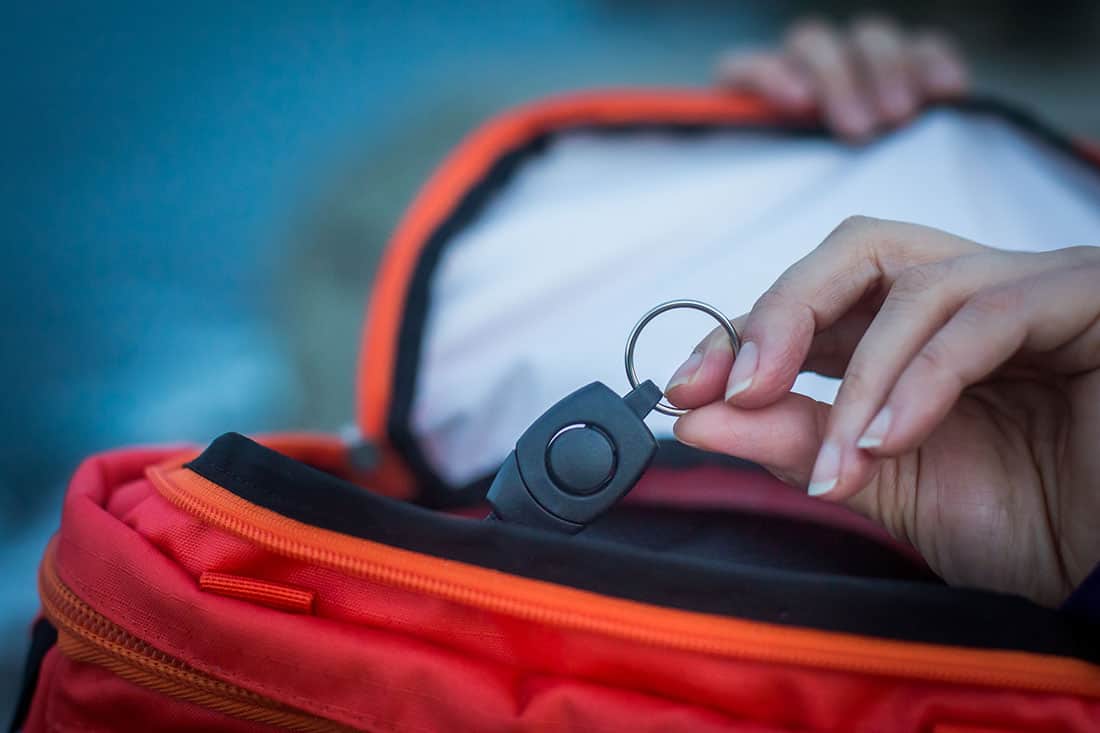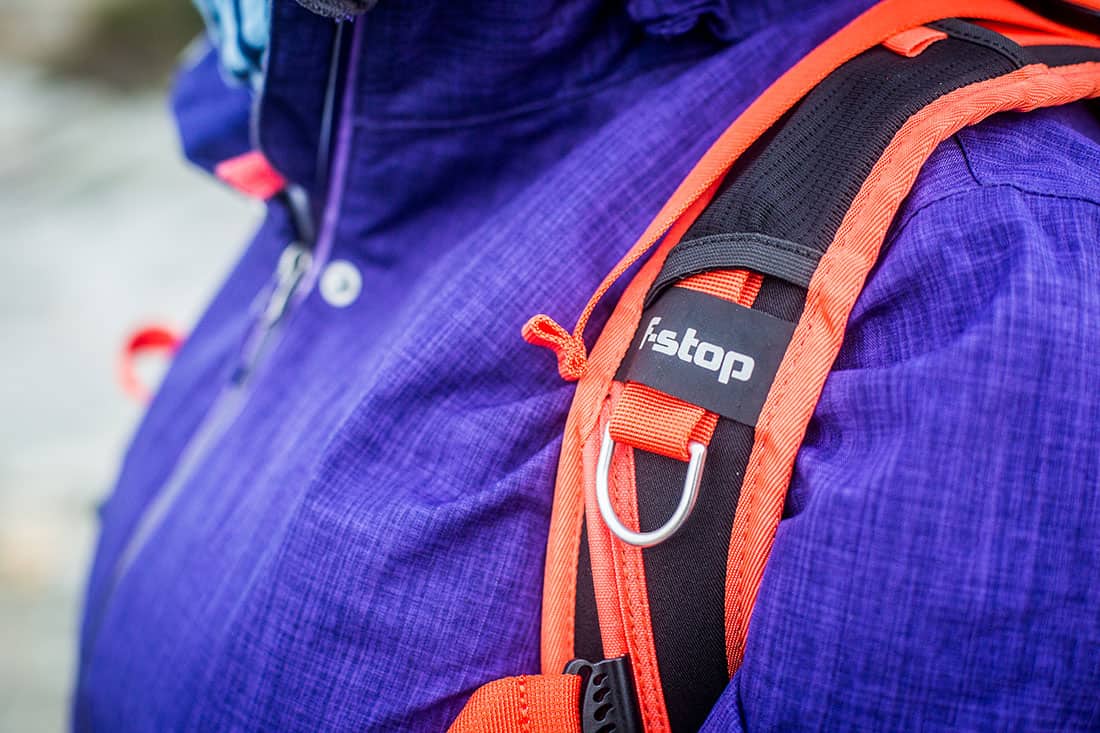 Durability
Unlike many products these days the F-Stop packs are robust. Being none too gentle with my equipment, my bags tend to take a bit of a beating. They get thrown down, dropped on rough surfaces, rained on, tossed on the wet muddy ground and dragged around. To date, I have never had anything get damaged inside my pack aside from managing to squash a banana.
The packs have been designed for use in the mountains and you can see this in all the materials and parts used. The material, zippers and attachment points are all of the highest quality and can withstand years of abuse. I know from personal experience with my other F-Stop packs.
The main fabric is made from a breathable oxford-weave ripstop nylon and AdvantaTM, a thermoplastic polyurethane film giving it high tear resistance. The Ajna also features a Hypalon® reinforced base for extra protection if you drop your bag onto rocky or hard surfaces.
Key Feature List
Highly tear resistant, wet weather and breathable fabrics
Hydration system with Velcro® sealed tube port
4 Internal ICU attachment points
Heavy-duty 3-fold carry handle
All-day support provided by an internal aluminium frame
Quick-release side compression straps
Adjustable sternum strap with an integrated whistle for emergencies
Soft Flex injection molded EVA belt and shoulder straps for all-day comfort
Water and weather resistance YKK® Aquaguard® zippers
Fast and catch-free closures
Reinforced base
Multipurpose internal and external pocket configurations inc laptop storage.
Accessory attachments via 16 GateKeeper mounting points (GateKeepers sold separately)
Specifications
Height: 59.7cm | 23.5in
Width: 33cm | 13in
Depth: 26.7cm | 10.5in
Volume: 40 Litres
Weight: 1.7kgs | 3.75lbs
ICU sold separately
Where To Buy/ Availability
The F-Stop Ajna is available to buy at most good photography stores. Click here to discover the full F-Stop range.
Price: $399 approx
[wp-review id="6677″]
---
If you are into camping, hiking, MTBing etc and wondering about new gear go check out Tyres and Soles because there is a good chance they have reviewed it.