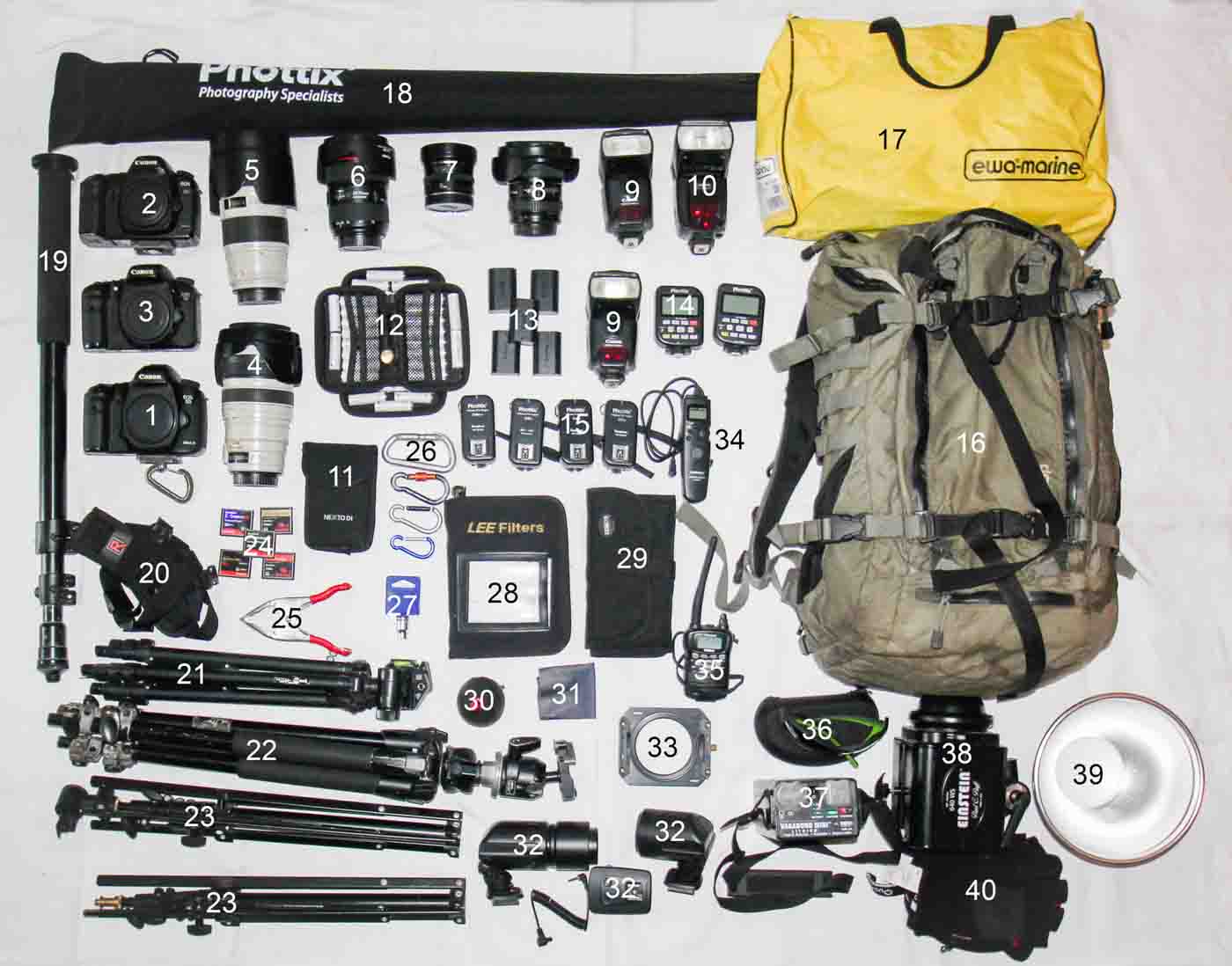 Here is a list of equipment I use. I wouldn't usually have all this kit with me, it just depends on choosing the right tool for the job. I shoot primarily with Canon because as that is what I started out with and all my lenses suit the Canon set up. I am not really interested in the old Canon vs. Nikon debate. Both make excellent cameras and from what I hear Nikon cameras are better for some conditions whilst Canon are better for others. I am very happy with my choices though, probably like most photographers, I seem to always want the shiny new stuff.
There is probably a few little bits missing still but these are the main bits I use. It is constantly being upgraded though. I will write more on some of the pieces in the coming weeks.
5DMKIII: My workhorse camera of the moment
5DMKII: My old workhorse and now my back-up
7DMKI: Never been overly thrilled with this camera but its fast.
28-300mm 3.5-5.6: Big, heavy and a bit slow but the range is huge. Means I don't have to change lenses too much in dusty or snowy conditions
70-200mm MKII 2.8: Love this lens. Has more or less replaced the 28-300mm now.
24-70mm MKII 2.8: Hardly leaves my camera these days.
15mm fisheye: A bit of a specialty lens but definitely has its uses.
17-40mm: My old wide angle. Doesn't get used too much these days and I am shopping for a replacement at the moment.
450 MKII: My 2 go everywhere and do everything flashes.
580MKII: Struggles a bit at times. A couple of swims in the ocean probably never helped it.
Nexto 80gb drive: When I am on longer trips and I need to back things up. Just pull my card out and plug it straight into here.
Enyo Batteries 2 sets plus a few. Batteries for my flashes
Canon Camera Batteries x5: Takes a few days of shooting to get through these.
Odin Radio Transmitters: Wonderful radio triggers. I have 2 sets 1 as a spare or if I set up the remote camera.
Odin Receivers x4: One for each flash and strobe that I have or spares if needed.
F-stop Satori Expedition Camera pack: Fits everything and is very comfortable on the back. I traveled Morocco for a month using this pack for all my camera gear and clothes.
Ewa Marine underwater housing: Have pulled it out a couple of times but still getting my head around the best ways to use it.
Parabolic reflective umbrella and diffuser: Soften the light from my strobe. I have a couple of smaller ones (not pictured) for my speedlights.
Manfrotto Monopod: A great place to rest the camera when I am shooting in the one spot for hours.
Black Rapid Sports strap: Much better than the average camera strap but I think there is better ways to do things still.
Manfrotto 190b plus ball head: My much loved tripod. Only downside is its heavy but that makes it solid too. Has been used and abused but is still going strong.
Cheap tripods x a few: Use these for remotes, flashes, triggers and such. Light and very cheap but also a bit fragile.
Manfrotto Nanos x2: Lightweight lightstands for the flashes.
16gb CF cards x4, 8gb CF x1, Eyefi 16gb: Would rather have a few smaller cards than 1 big one. This amount of space lasts quite a while before it needs to go onto the drives.
Bullclip: Like my cheap tripods I use it to stick things around the place
Assorted Carabiners: useful little things also the way I carry my camera normally.
Tripod socket: Part of my small repair kit that I have close-by.
Hi-tech filters 3x ND grad, 3x ND: Drop filters used mainly for landscape photography and balancing the light.
Assorted round filters: Polariser, ND Variable, 10 stop filter. Various filters various uses.
Air Rocket: For keeping the kit clean
Lens Cloth: To get rid of those sticky fingerprints and dust.
Cactus Laser triggers: Set them, leave them and they will do the work for you. Plus they have lasers.
Filter Holder: For keeping the drop filters in place
Intervalometer: For the overnight shots and super-long exposures
Walkie Talkie: For talking with athletes and Keeping in contact with Gil while we shoot as Outer Image.
Gloryfy Sunglasses: I got sick of breaking my sunglasses and these things are near bombproof.
Vagabond Battery Pack: Power for the Einstein or I can use it to recharge my batteries if they are running low.
Einstein Strobe: 640 watts of power. Makes my speedlights seem weak and a beautiful crisp light.
Reflector: To make sure all the light from the Einstein goes in the right direction
Quechua Gloves: Best photography gloves I have every found. Can't get them in Australia though.